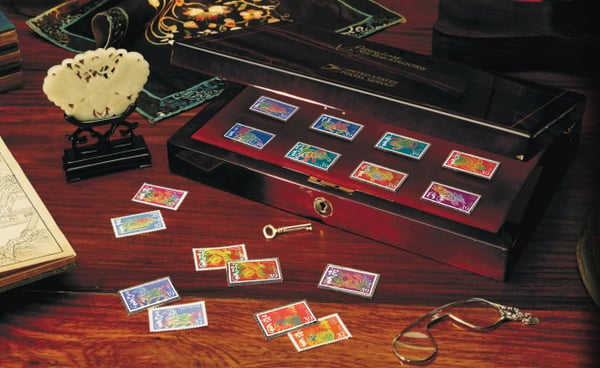 Celebrating the Chinese New Year Tradition in Solid Silver and Brilliant Color!
LUNAR NEW YEAR COLLECTION
The Chinese Lunar New Year Collection is a 12-piece limited edition precious metal set. Licensed from the United States Post Office, these Stamp Ingots show the Chinese Lunar New Year animals displayed in stunning full color. Each of these Ingots is minted to the finest quality on one ounce of pure .999 fine silver and expertly colorized. In addition to these Ingots, several Collector Gifts will be sent with your purchase (detailed below) along with a Certificate of Authenticity.
Each Ingot is priced at $128, for a full Collection price of $1,536. However, as a World Class Collection valued customer, you will receive a 10% discount for a special price of $1,382 (a $154 savings!). This price includes all taxes and shipping.
Subscribers can choose to get the entire Collection as a full set with the $1,380 payment or split the purchase into two payments of $690 each. *
As part of your Collection, you will also receive the following gifts at no additional charge:
Each Ingot has a gorgeous Fact Card that can be stored in a specially designed Fact Card Album

Collectors will receive the original 12 stamps issued by the United States Post Office.

Jeweler's Cloth and Gloves for safe handling of Ingots

Official Certificate of Authenticity

The marquee gift the Collection is the lacquered, velvet-lined, lockable wood Collector's Chest, designed to house and protect your entire collection
For more information or to place your order, call our Customer Service line at 1-800-451-5248.
*The first half of the Collection will include 6 Ingots, the Fact Cards for those ingots along with the Fact Card Album, Jeweler's Cloth and Gloves, and the wood Collector's Chest. The remaining items of the Collection (6 Ingots, corresponding Fact Cards, 12 original stamps from the US Post Office and the official Certificate of Authenticity) will be sent with the balance due payment.